Camouflage that meets mission needs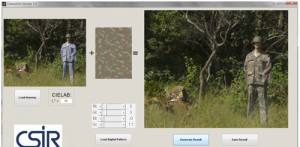 Johannes Baumbach is a senior researcher at the CSIR with vast experience in camouflage research who regularly assists the South African National Defence Force with their camouflage needs and requirements. Together with fellow researcher, Bernardt Duvenage , they developed a computerised camouflage simulation tool that aids in the evaluation of mission-specific camouflage designs. Funded by the Department of Defence, the simulator evaluates camouflage patterns on-screen to rapidly and cost-effectively evaluate a proposed pattern for a specific terrain.
Cost and colour are critical in effective camouflage design and manufacturing. Colour calibration to match on-screen and environmental colours is essential, as well as consistency in the manufacturing process to improve the effectiveness of camouflage in use. Only top-performing designs are manufactured for field evaluation. Some nations have cut back on the number of camouflage designs in use because of the logistics and costs.
Camouflage research has led to a concept 'personal net' for the soldier, developed by Baumbach and Dave Roos , a researcher in the Landward Sciences domain. This net will improve the effectiveness of operations and the comfort of the soldier during border protection missions. Over and above camouflage and improved observation of the environment, it provides shade, protection against mosquitoes and other insects, as well as protection against wild animals.
The future of camouflage lies in wide-band, adaptive camouflage that is effective in the visible (day-time), near infrared (night time), thermal and radar bands, as well as new terahertz imaging technology. On-demand camouflage is the way for the future: changing the properties of the camouflage system at will, to suit the mission, environment and threat. Nanotechnology now makes it possible to change the properties of materials, which will influence camouflage technology significantly in the future.
The CSIR's camouflage research team is determined to stay abreast of the latest developments in this field to contribute to the safety of those mandated to protect us.