Lighting for safer landing
The Special Operations capability of the South African Defence Force enlists a particular brand of soldier, to operate under particularly difficult circumstances. These operatives most often require technology solutions of particular sophistication and precision.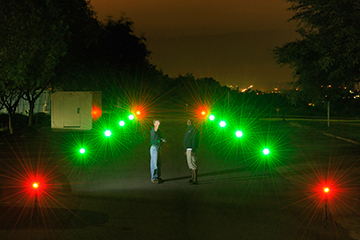 Chris Botha is a project manager and technician at the CSIR's section for Technology for Special Operations. Together with his team, he designed and developed a product named CANDLE, a portable landing light system, which won them international acclaim.
The system is lightweight and can be carried as part of a paratrooper's kit. It is rapidly set up to either mark a drop zone for paratroopers or to lay out a landing strip for aircraft with infrared or normal visible light. Great novelty lies in the fact that the lights are remote-controlled and can be switched on and off either by operators on the ground or the pilot from as far away as ten kilometers.
CANDLE is most often used by paratroopers in peacekeeping operations, who perform a pathfinding function, and who are dropped in areas where there is no landing strip.
The system consists of twelve lights, each fitted with a transmitter/receiver with a remote control effective up to 600 metres/10 km (long range) and 200 metres between lights. With six lights on either side, a landing strip of 1 000 metres and longer can be marked out. This means a plane of the size of a Hercules transport aircraft can be guided with this system.
When the aircraft approaches, the lights are switched on, and then switched off immediately once it has landed safely. Because it is infrared enabled, the lights are only detected by night vision equipment and thus remain unseen by others with the naked eye.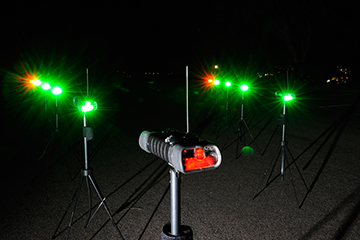 Initially required to assist defence force personnel in areas without sufficient air transport infrastructure, the system has also found civilian application among mining companies both in South Africa and further on the continent. It was awarded a coveted International Soldier Technology Award in 2006, selected from amongst a number of soldier modernisation programmes from around the world.
The CSIR is currently upgrading the landing light product to include landward-based sensors that serve as an early warning system for protection, as well as a detection capability for intrusion into secure environments. Finalised products will be made available for industrialisation under a licensing agreement.