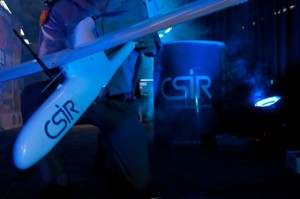 The Indiza Unmanned Aircraft System (UAS) is a two metre span, hand launched, all composite rugged mini-UAS airframe into which a number of interchangeable camera modules can be fitted. The airframe contains a GPS-based autopilot, radio modem, video transmitter and camera module. The ground based equipment consists of a laptop based mission planner, data link modem with a tracking antenna system for the video and data links. There is an optional radio control transmitter and airborne receiver for man-in-the-loop control of both the airframe and the camera system.
The airframe was designed and developed as a small UAS research platform and capability demonstrator. It is assembled out of composite parts manufactured in CNC machined moulds. Uniquely amongst UAS, it has been wind tunnel tested and characterised and a flight dynamics software model of it created in a simulation environment.
The aerodynamic design philosophy focussed on the production of an efficient airframe (to maximise duration) with benign handling and stalling characteristics due to the requirements that it be hand launched and controlled by a pilot when the autopilot was not engaged.
The airframe can accept a number of generic camera modules. These interchangeable modules consist of three different types of camera systems:
A pan, tilt and stow twin-camera system
A stowable high definition wide angle video camera
A 3G cellphone based camera
The system has been developed to allow experimentation with different camera systems for the user to understand their UAS requirements through experimentation.