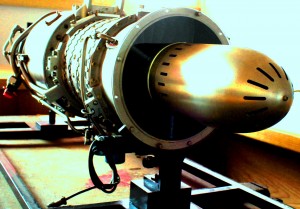 The CSIR has taken on the task of expanding its activities in gas turbine design, building on the engine developments of the 1980s and 1990s.
The CSIR is currently in various stages of development of a 200 Newton (N) turbojet engine for radio controlled models, unmanned aerial vehicles (UAVs) and target drones, a 600 N advanced cycle turbojet engine for Glider Sustainers, UAVs, target drones and weapons system applications, as well as a 3 kilo-Newton (kN) turbojet engine.
These developments are being pursued in order to enhance the existing technology and to ultimately have a fully working product to be manufactured in South Africa. There is a demand for the product and this will allow for a vibrant gas turbine industry in the South African market. The CSIR is working with Stellebosch University, other South African universities, as well as an SMME based in the Western Cape, called Cape Aerospace Technologies, to revive these technologies with the assistance of the Aeronautical Industry Support Initiative of the department of trade and industry.
The goals for the developments include upgrades of turbofans and turbo shafts of the 3 kN engine, with applications in rail transport, and remote power generation for shale gas sites in mind.